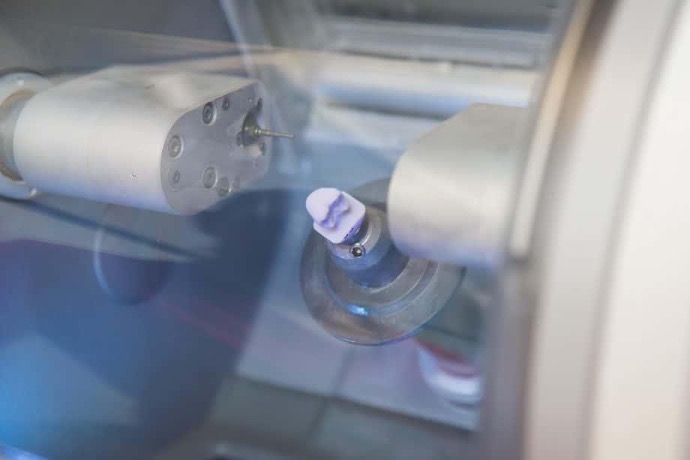 Do you have a tooth that needs a crown? A crown is used to restore a tooth that is weakened due to decay or cracking. The existing tooth is shaved down and the crown is placed over it and cemented into place. If the tooth is broken or cracked it may need to be built up using filling material in order to have enough of a base to attach the crown.
A traditional crown procedure requires multiple visits to the dentist in order to prepare the tooth, get a temporary crown, and then wait a few weeks while the crown is created in a lab and sent back to be permanently fitted. With new technology, such as CEREC Same Day Crowns, your entire crown procedure can be done in one day.
CEREC stands for Chairside Economical Restoration of Esthetic Ceramics, otherwise known as CEramic REConstruction. This option allows you to receive your permanent crown in just one day or the very next day. Here are 3 Reasons discerning dentists and patients alike are choosing CEREC Same Day Crowns.
Appearance
One of the biggest advantages is the natural appearance of CEREC crowns. Advanced CAD (computer-aided design) technology is used to create a realistic looking tooth that is the appropriate size and accurate color to match the existing teeth. After a CEREC crown, the patient and others cannot tell the difference between the crown and the person's other teeth. Patients are pleased with their natural appearance and in many cases the crown even improves the look of the patient's smile over the existing tooth that was there.
Convenience
Who has time to make multiple trips to the dentist's office? If you're busy and can't afford to miss work or school for dental procedures, a CEREC Same Day Crown is for you. In one day your tooth can be prepared and the crown can be created and permanently placed. You won't have to go back multiple times and spend weeks with a temporary crown that restricts your eating ability while you wait for your permanent crown. One and done with CEREC.
Durability
CEREC Same Day Crowns are made of strong dental ceramic that is proven to be extremely durable and stain-resistant. They are stronger than traditional crowns because they are precisely designed, biocompatible, and chemically bonded to the existing tooth. Strength is important so that you can eat what you want without worrying that you may damage your crown or your own weak tooth. For most patients the CEREC crown lasts for their lifetime.
Technology is Revolutionizing Dentistry
CEREC Same Day Crowns are just one example of how technology is changing dentistry for the better. The patient experience is constantly improving with advancements in technology. Digital images make it possible for crowns to be precisely sized and colored for a completely natural look and function. Machinery that can create and make adjustments to crowns in-office means patients get a better fit without having to wait weeks for their permanent crown.
Integrated Aesthetic Dentistry Improves Patient Experience
Are you in need of a crown but you don't have time to sit in the dentist's chair? Integrated Aesthetic Dentistry understands that you lead a busy life, which is why we offer CEREC Same Day Crowns. Come in and have your crown placed in just one day following your initial consultation.
Call (212) 533-6782 today to schedule a consultation with Integrated Aesthetic Dentistry to see if a CEREC Same Day Crown is right for you.