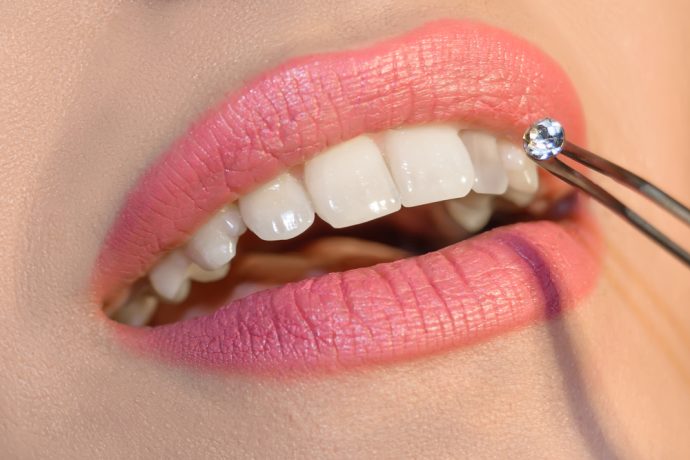 When it comes to adding some flair to your personal style, there is nothing that makes quite an impression like a little sparkle. In a city as fashionable and fast-moving as New York City it can be hard to find a way to stand out. One unique way to provide that sparkle to your day are tooth gems. These accessories are having a moment, with A-list celebrities like Bella Hadid, Rihanna and Halsey incorporating them into their style, but what exactly are tooth gems?
Dental jewelry is nothing new. Like all types of fashion we have seen dental styles change and evolve over time. Tooth gems provide an elegant and unexpected flash that sneaks from your smile to capture the attention of anyone looking. Most often a small jewel applied by a dentist to your tooth, these charismatic gems are designed to provide a bold touch of chic class to your style.
Could tooth gems be for you? At Integrated Aesthetic Dentistry, our team cares about your teeth and wants to help guide you to the best decision for you. Here are a couple of answers to the questions you might be asking yourself.
How are tooth gems applied?
To avoid any permanent damage being done to the tooth, the gem is applied to the tooth with a powerful adhesive. The gem can be removed if desired, but left alone the adhesive can be expected to last roughly six months.
Will tooth gems damage my teeth?
Tooth gems can be completely safe if the procedure is done by a reputable dentist. The skilled professionals at Integrated Aesthetic Dentistry can be trusted to apply tooth gems reliably, safely and with the utmost care. It will be important once the gem is applied for the tooth and the tooth gem to be taken care of per the dentist's instructions. 
Do I need to go to a dentist for tooth gems?
There is no mandatory certification for the application of tooth gems. Because of this, it is best practice to have a dental expert answer any questions you might have before deciding that a tooth gem is right for you. Tooth gems are not permanent, but are long lasting.  Like any investment, tooth gems should come with the advice of a professional. Additionally, no two mouths are the same. A dental professional like Dr. Caroline Barsoum, or any of the other experts at Integrated Aesthetic Dentistry, who are equipped with expert knowledge of your dental history, would love to help answer any questions you might have about tooth gems.
Does adding a little shimmer to your smile with a tooth gem sound like it might be something for you? Give our New York City based office a call at 212-533-6782. Our dedicated team at Integrated Aesthetic Dentistry is standing by and will be more than happy to go over any questions you have!